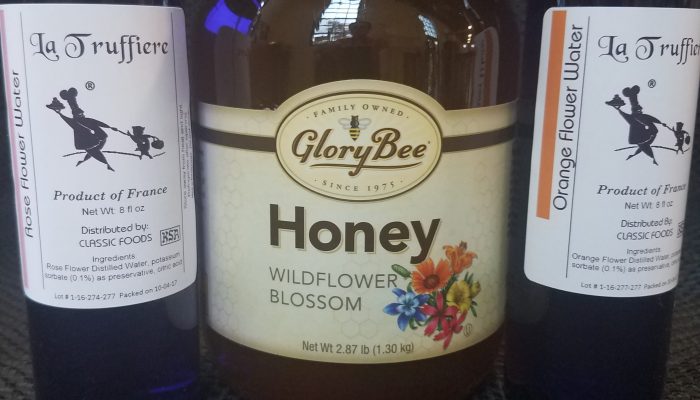 We at Classic Foods know that the leaves are turning, but some new flowers have popped up here recently.  We're pleased to announce a few flowery products now available. Our good friends at La Truffiere are now producing Rose Flower Water and Orange Blossom Water for us.  Available in eight ounce bottles, these waters give any dish a fresh and flowery touch, something to help us forget the cold rain and clouds outside.  Also available, Glory Bee Wildflower Honey!  Due to overwhelming demand, we have added Wildflower Honey, now available in quart jars.  Previously, we've only had honey available in a forty pound bucket.  These quarts are available for those who don't need that much, as the quarts run a little under three pounds a jar.
We also have another new product available, not photographed, but nonetheless ready for your holiday needs.  We now have Puff Pastry available in one pound frozen rolls, from none other than Portland's own Grand Central Bakery.  Each roll is one sheet of puff pastry about the size of a half sheet pan (12″ x 24″), and (like our pasta) starts with Shepherd's Grain flour, so the quality is excellent.  After defrosting, any remaining dough can be refrigerated or frozen again so you don't have to use it all at once.  With Beef Wellington and dessert season rounding the corner, we've got you covered.
As always, contact your customer service representative for pricing and ordering information.